This page has been visited

[TextCounter Fatal Error: Could Not Write to File _nt06_registration_html]

times
since April 21, 2005.
Last update: 2019.10.30 (Wednesday) 09:07:15 EDT.

Copyright©2006 Nanotube2006
All rights reserved.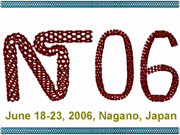 NT06: Seventh International Conference
on the Science and Application of Nanotubes
Hotel Metropolitan Nagano

(Nagano, Japan)

June 18 - 23, 2006
Japanese Site: http://endomoribu.shinshu-u.ac.jp/nt06/
MSU Mirror Site: http://nanotube.msu.edu/nt06/
NT'06 Attendance and Registration
The NT'06 conference is open to everybody interested in the Science and Application of Nanotubes.
Please register early, since the number of participants may be limited. Priority will be offered to those participants who present a contribution.
---
Entry Visa Information
Remember to check if you require a visa to enter Japan. Please arrange your entry visa ahead of time.
A letter of invitation for visa application purposes can be issued from the conference secretariat, once you have paid your registration fee.