This page has been visited

[TextCounter Fatal Error: Could Not Write to File _nt06_posters_html]

times
since May 18, 2005.
Last update: 2019.10.30 (Wednesday) 09:07:15 EDT.

Copyright©2006 Nanotube2006
All rights reserved.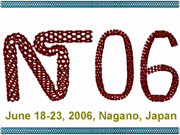 NT06: Seventh International Conference
on the Science and Application of Nanotubes
Hotel Metropolitan Nagano

(Nagano, Japan)

June 18 - 23, 2006
Japanese Site: http://endomoribu.shinshu-u.ac.jp/nt06/
MSU Mirror Site: http://nanotube.msu.edu/nt06/
NT06 Poster Information
We have grouped all contributions into 7 thematically related groups of similar size, called in the program "Session A", ..., "Session G". We expect a lot of discussions during these contributed poster sessions.
Poster sizes at NT06: Up to 180 cm high, 90 cm wide.
Please mount your poster as soon as the preceding poster session has ended, and dismount it at the end of your poster session.
Each poster session will be preceded by a 30-minute "executive summary" of contributions presented, given by leading experts in nanotube research. These presentations will help everyone get a better feeling for

Where is the nanotube field now?
What has been the most recent progress?
What is holding up further progress?