This page has been visited

06371

times
since April 21, 2005.
Last update: 2006.06.30 (Friday) 04:07:32 EDT.

Copyright©2006 Nanotube2006
All rights reserved.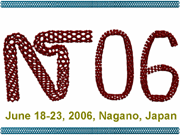 NT06: Seventh International Conference
on the Science and Application of Nanotubes
Hotel Metropolitan Nagano

(Nagano, Japan)

June 18 - 23, 2006
Japanese Site: http://endomoribu.shinshu-u.ac.jp/nt06/
MSU Mirror Site: http://nanotube.msu.edu/nt06/

NT06 Program
Scientific Program
Chronological Program
(Click on presenter name to retrieve presentation)
Monday, 19 June 2006
Tuesday, 20 June 2006
Wednesday, 21 June 2006
Thursday, 22 June 2006
Friday, 23 June 2006
Satellite Meetings and Tutorials
Excursion Program
Program of the NT06 excursion on Wednesday, June 21, is posted HERE.